Our bulk bag unloading systems accommodate all from bulk bags to totes and large to small bag adjustability.
Our bulk bag unloaders provide a dependable method of unloading bagged bulk and semi-bulk materials. The system can easily be operated or serviced by one person and is a cost-effective solution to bulk bag handling operations.
Bulk Bag Unloader/Hoist Series 5000
Dynequip series 5000 bulk bag unloaders are used to unload super sack bags of material (granular or powders)
for a variety of system applications.
These machines have some great features! They include but are not limited to:
Heavy duty all welded tube construction
Bag agitation
Spreader bars for bulk bag support
Hand operated air control panel
Hoist w/ pendant drop
Iris valve
Confinement box with door
Powder coated frame (foot print 60″ square)
Frames heights are engineered to suit customer specified bag sizes
5 CUFT hopper
We have optional features too!
Air inflatable bag spout connection (traveling and fixed)
One or two ton hoist frame designs
Open member design
304SS/316SS construction/food grade
Certified bag spreader arms with load tested certificate
Portable stairs
Level controls
Hopper aeration
Bag dump discharge
Load cells
Dust collection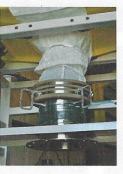 Inflatable Spout
Fixed
Traveling
---
Iris Valve with Confinement Box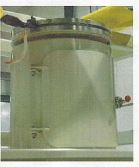 Door access